An illustration, created at the Centers for Disease
Control and Prevention (CDC), depicts the 2019
Novel Coronavirus (Reuters)
At least 20 Boston scientists tested DIY
coronavirus vaccine on themselves
["I think we are at a much bigger risk from
COVID considering how many ways you
can get it, and how highly variable the
consequences are," said George Church,
a celebrity geneticist from Harvard. "I
think that people are highly under-
estimating this disease."]
========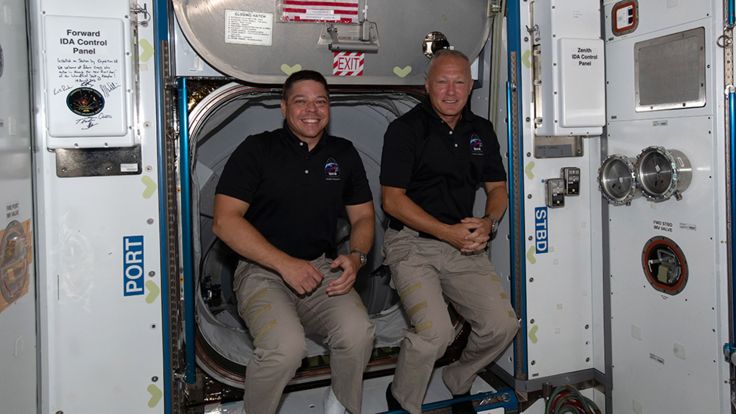 Bob Behnken (L) and Doug Hurley (R) (NASA)
Nasa SpaceX crew return: Astronauts set for
ocean splashdown
[The pair are expected to splash down off the
coast of Florida just after 14:40 local time
(19:40 BST) on Sunday. A successful landing
would mean America once again has a fully
serviceable, fully certified means of getting
its own people into orbit and back. This
capability was lost when the country retired
its shuttles in 2011.]
========
Coronavirus: Media to be barred from Trump
election nomination
[The US Republican Party's vote to nominate
its presidential candidate this month will be
held in private, without press in attendance.
A Republican National Convention spokes-
woman gave coronavirus health guidelines
as the reason, the Associated Press reports.
to formally renominate President Trump.
The 336 delegates will meet on 24 August in
the city of Charlotte.
=======================================
How Iran and Hezbollah trapped Israel into
staring down 150,000 rockets on its border
that it can only counter at a terrible cost
.
European states denounce 'illegal' Israeli
building plans in Jerusalem area
Hamas official: Palestine is not for sale
978 Jews Ascended the Temple Mount on
Tisha B'Av
Netanyahu posts video highlighting 'incitement
to murder' against him
Riots and protests from Portland to Jerusalem
White House blasts 'appalling' Twitter policy
on Khamenei's anti-Israel posts
Twitter to MKs: Unlike Trump tweets,
Khamenei's 'eliminate Israel' posts are ok
Debate over Iran in Iraq: 'Israel will liberate
Tehran before Iran liberates Jerusalem'
Iran rules out drone or missile attack as
cause of nuclear site blast
Turkey Got Involved in Libya to Seek Economic
Gains, Tripoli Gov't Officials Say
China's Xi Sets His Sights on Taiwan After
Subduing Hong Kong
How Beijing's 'red lines' over Taiwan could
lead to war with US
Teen 'mastermind,' two others charged in massive
Twitter hack, Bitcoin theft
Twitter permanently bans former KKK leader
David Duke
Florida man sentenced to prison over Facebook
threat to kill Christian group
Facebook stock spikes to record as prominent
advertisers' boycott doesn't scare anyone
Trader Joe's Responds to Criticism Over
Branding: 'We Disagree That Any of
These Labels Are Racist'
Mail Delays Fuel Concern Trump Is
Undercutting Postal System Ahead
of Voting
House Democrats subpoena Pompeo
over claims he helped advance
'conspiracy theories' about Biden
Pentagon's secret, defunct UFO-
hunting program may still exist