Strikes on Syrian medical facilities
appear deliberate: U.N.
A White Helmets member uses a saw on rubble
after an airstrike in this screen grab taken from
a social media video said to be taken in Idlib,
Syria on July 16, 2019. White Helmets/social
media via REUTERS/File Photo
More than 60 medical facilities have been
hit in Syria's Idlib province in the past six
months, including four this week, and
appear to have been deliberately targeted
by government-affiliated forces, a U.N.
rights spokesman said on Friday.
Pope Denied Bodily Resurrection of
Jesus Christ
In his new book and in the periodical he
founded,
La Repubblica
, Eugenio Scalfari,
a long-time friend of Pope Francis and
frequent papal interviewer, claims that
the Pope told him that Jesus Christ did
not rise bodily from the dead but "
in
the semblance of a spirit
."
Tunisia's moderate Islamist party
may choose outside candidate as PM
Ennahda is expected to reveal its choice
for prime minister by the next week. If it
cannot form a government within two
months, the president can ask another
group to try. If that fails and the deadlock
persists, there will be another election.
Germany: Statue of Ronald Reagan
Unveiled to Mark Fall of Berlin Wall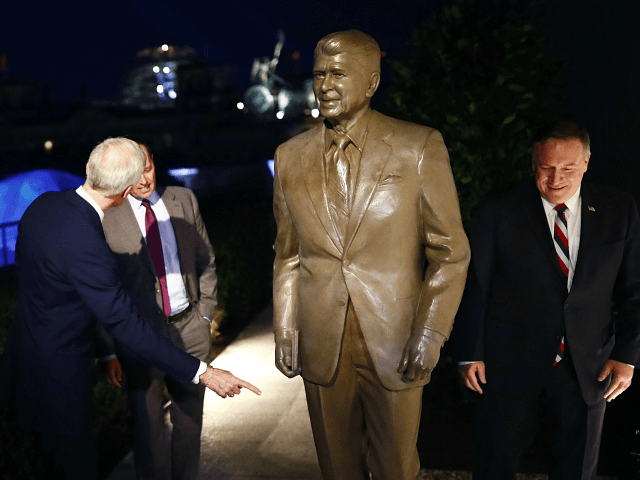 HANNIBAL HANSCHKE/POOL/AFP via Getty Images
The U.S. Embassy in Berlin unveiled a
statue of Ronald Reagan on Friday at a
site overlooking the location of the
former president's iconic speech
imploring the Soviet Union to remove
the Berlin Wall.
EU needs to learn the 'language of
power', incoming chief says
EU Commission President-elect Ursula Von der Leyen
holds a speech on the present situation in Europe, in
Berlin, Germany November 8, 2019. REUTERS/
Annegret Hilse?
The European Union can no longer rely on
soft power to promote its interests and
must develop more security "muscle"
and policy focus on trade, incoming
European Commission President
Ursula von der Leyen said on Friday.
North Korea says 'window of opportunity
closing' for outcome of talks with U.S
Jo Chol Su, the head of the North Korean
foreign ministry said that sanctions
imposed on North Korea were "an
unacceptable insult" and must be lifted.
Bloomberg faces big challenges if he
leaps into 2020 White House race
Former New York Mayor Michael Bloomberg
Bloomberg will have to answer questions
about his record as a three-term mayor
of New York, particularly from the
Democratic Party's vocal progressive
wing, and offer a compelling argument
for why he is needed in a race that still
has 17 candidates vying to challenge
Republican President Donald Trump in
November 2020.
But Bloomberg is
skeptical that any of the current
candidates can beat Trump, according
to a spokesman.
Arizona governor announces opening
of Israel trade office
(photo credit: REUTERS/NICOLE NERI)
Republican Arizona Governor Doug Ducey
announced the opening of the state's first
trade and investment office in Israel on
Thursday, located in central Tel Aviv.
The office, located at Tel Aviv's Alon Tower,
will serve as a platform to increase
international trade and foreign direct
investment opportunities for both
countries.
Young Muslim women surge to
success in American elections
Congresswoman Rashida
Tlaib
has lent
her support to the 26 Muslim candidates
emerged victorious in Tuesday's off-year
US elections, tweeting news of their
successes. The election wins brings the
total number of
Muslims
elected to office
in the States this year to 34. Fifteen of the
candidates were newly elected. Muslim
advocacy groups have described the results
as a blow against Islamophobia and a triumph
for community organization. Politics expert:
Women of color are "next generation of leaders"
MOCKERS and SCOFFERS ARE HERE!
* * * * * * * *

OTHER HEADLINES:
Commentary: Who will lead the
Palestinians after Abbas?
Jordan bans Israeli farmers from border
enclave
Cyprus signs $9 billion gas extraction deal
with Israel's Delek, other firms
Surprise! Israeli Natural Gas Fields Much
Larger than Expected
Israel's restraint comes with a price
Middle East: The Anti-Iran Revolution is
Well Underway
No sign of new cabinet as Lebanese
leaders meet, bank curbs continue
Russia deploys military helicopters to
patrol Syria-Turkey border
Erdogan threatens to open Europe gates
for refugees