SANHEDRIN's NOAHIDE COURT: Messiah Revealed
When Nations Keep the Sabbath
Rabbi Yoel Schwartz, head of the Sanhedrin's Noahide Court
and of the Dvar Yerushalayim Yeshiva, stated that one of the
reasons the Messiah has yet to reveal himself is because the
non-Jewish nations are not keeping the Sabbath. The rabbi
has put out a call for the nations to keep the Sabbath and for
the Jews to help them in this mission. The rabbi stated that
the Jews were given the Torah in order to teach it to the nations.
IDF CHIEF: Hezbollah Planned to Use Attack Tunnels for
Surprise Invasion of Israel
Gadi Eisenkot's comments came a month after the IDF
launched an ongoing operation to locate and destroy the cross-
border attack tunnels dug from Lebanon. In an interview aired
just days before he is set to leave his post on January 15, Eisenkot
told Hadashot TV news that Hezbollah "had grandiose notions.
They were looking many years ahead, to a war or wide escalation,
where they [believed they] would have a surprise, an ace in
their deck."
ANCIENT BIBLICAL JERUSALEM IS NOT WHERE YOU
THINK IT IS
The true location of ancient Biblical Jerusalem is not the Old City,
whose walls, built by Suleiman during Ottoman Empire, are only
450 years old. Rather, it is the City of David, which lies on the southern
slope of the Temple Mount. "For 1000 years, we forgot where ancient
Jerusalem was. Now there is a reawakening," Heymann told Breaking
Israel News.
ISRAEL OPENS SEGREGATED WEST BANK HIGHWAY
NEAR JERUSALEM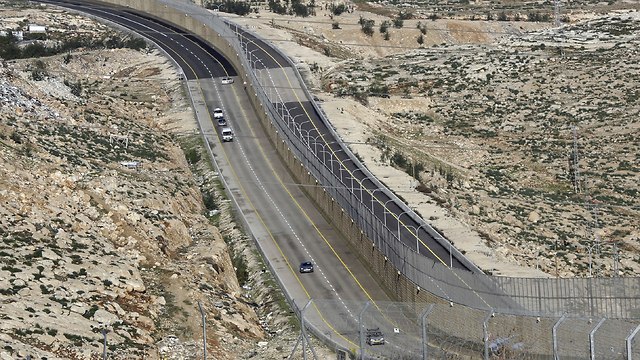 Israel inaugurated a new highway in the West Bank on Thursday
that features a large concrete wall segregating Israeli and Palestinian
traffic. One side of Route 4370—located northeast of Jerusalem—
will be open to Israeli vehicles only, while the other half will only
be open to Palestinian traffic. Critics have branded it an "apartheid"
highway, saying it is part of a segregated road system that benefits
Jewish settlers.
MASSIVE SWARM of LOCUSTS PLAGUE MECCA's GRAND
MOSQUE
A massive swarm of locusts plagued Mecca, Saudi Arabia, earlier
this week, prompting authorities at Islam's holiest site to launch a
cleaning operation to remove them. Videos posted to social media
showed the insects swarming around cleaners and worshipers in the
city's Grand Mosque, where millions of Muslim pilgrims congregate
every year.
WORLD WAR 3: Iran General vows to DESTROY US army bases
and threatens Israel ANNIHILATION
The extraordinary outburst came from Brigadier General Mohammad
Reza Naqdi, the Islamic Revolutionary Guard's deputy commander
for cultural and social affairs. Speaking on Iraqi television network
Al-Nujaba, the general scoffed at the idea of a US attack on Iran and
warned of a swift response if it did. He said: "America will not launch
a war against Iran. If it does — a possibility that I rule out — we will
destroy all its military bases in the region."
SWITZERLAND: Reviewing Palestinian Textbooks That Promote
Violence, Racism
Lessons encourage children to view the entirety of Israel as Arab
territory, refer to Israelis and Jews interchangeably and with hostility,
and "feature a radical Islamist, and occasionally, a Salafi worldview."
Some passages also hail those who carried out attacks against civilians,
among them Dalal Mughrabi, a Palestinian nationalist who in 1978
helped massacre 38 people, including 13 children, near Tel Aviv.
BREXIT DONORS PREDICT UK WILL STAY IN EU as Theresa
May faces humiliating Commons defeat over deal
Two of the biggest donors to the Brexit campaign have said they are
now expecting the UK to stay in the European Union. Peter Hargreaves
and Crispin Odey, who both donated huge sums to the Leave campaign
in 2016, have claimed they believe the decision to leave the bloc will be
reversed.
US TO CONVENE GLOBAL SUMMIT ON IRAN next month,
Pompeo says
The United States is organizing an international summit in Poland
next month, focusing on Iran's Middle Eastern influence, US Secretary
of State Mike Pompeo said Friday. Pompeo made the announcement in
an interview with the network during a regional tour aimed at reassuring
US allies after President Donald Trump's shock decision to withdraw all
American troops from Syria, which sparked concerns that Iran's influence
could grow.